Buy Access Panels Overnight
Updated: Sep 4, 2019
Until recently, it was impossible to buy and receive drywall access panels overnight. Now, with the launch of Phantom Panels and UP Ceilings E-commerce store, and launch of inventoried panels on Amazon Prime, a project manager's dreams of overnight and 2-day shipping can become a reality.
Access panels are often forgotten until they are needed immediately. Overnighting panels through the traditional methods is expensive and there is no guarantee that they will even arrive on time. Read on to learn how all of that is now changed.
What are Drywall Access Panels?


Drywall access doors, like those by Phantom Panels, Wind-Lock, Acudor, WB Doors, Hallman, and others, are typically inventoried or made to order depending on the size and dimensions. For commercial construction, they are often supplied through distributors, or bought directly by the GC or sub contractor installing them (typically the mechanical or drywall contractors).


These stealth doors are taped into 5/8" or 1/2" drywall and made to look invisible. They contain embedments to receive screws into light gauge or other framing. There are two types of doors available:


Lift & Shift Phantom Panel
Lift & Shift (Gravity Fit)


Options Include:
Styles:
Radius Corner
Square Corner
Oval
Circle​
​
Application:
Ceilings
​
Materials:
GFRG
GFRC
​
Sizes (Door Opening):
Radius: 6"x6" - 24"x72"
Square Corner: 6"x6" - 24"x72"
Oval: 10"x20" - 24"x48"
Circle: 12" - 24"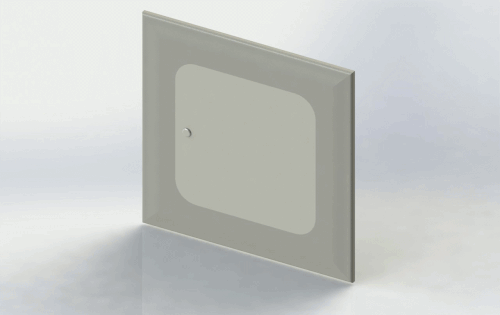 Hinged Phantom Panel