Overpaying for commodity products?
Paying for shipping and hidden fees?
Spending too much time on the easy stuff?
Product not arriving on time? Miscommunication causing delay? Lack of trade coordination?​
Made outside of the USA?
Product falling apart way too fast?
Cheap parts costing time to fix?
Phantom Panels leverage a nationwide automated distribution network to ship you top quality access panels faster and less expensive than any other competitor in the marketplace.
Start saving money. Start getting your schedule back on track. Start using Phantom Panels today.
Paint Ready Surface
The face of the panel comes filled and sanded - ready to receive a finish. No extra mudding/taping required.
100's of Options/Sizes Available
Sizes available from 6" to 120", custom available. Other options include moisture resistance,gasket sealing, lock options.
Made in the USA
Manufactured in California by the oldest running plaster shop in America.
Full Width Embedments
The perimeter of the panel contains full width embedments to receive screws without fracturing or cracking the frame.
Standard Shipping​
Small packages shipped via UPS, larger orders are crated and shipped LTL. 1-5 day standard lead time, overnight shipping available.
Quality Materials
Made of the highest quality rock-hard plaster - no deterioration from multiple sandings.
Made for 5/8" Sheetrock
Panels made to mount flush with 5/8" gypsum board, or 1/2" drywall thanks to the included tape fin.
Precision Made Molds
No matter which way you put the panel back into the opening, it will always fit. Consistent CNC accuracy within .005in.
Customer Service
Agents available to help with ordering, shipping, and support.
Upfront, stable pricing that's quickly available without being subject to quotes, paperwork, delays, or changes.
Easily order panels online (or via Amazon) and get them delivered little as 1 day. Fast installation, no hassle service.
The most hidden/concealed drywall panel with the smallest joints, doesn't disturb the design aesthetic.
Great warranty and best prices on the marketplace for commercial construction, evidenced by competitor price-matching.
Lift and Shift
Gravity fit panels
Styles:
Radius Corner

Square Corner

Oval

Circle​
​
Application:
​
Materials:
​
Sizes (Door Opening):
Radius: 6"x6" - 24"x72"

Square Corner: 6"x6" - 24"x72"

Oval: 10"x20" - 24"x48"

Circle: 12" - 24"
​
Custom Sizes & Molds Available.
​
​
Hinged
Concealed hinge panels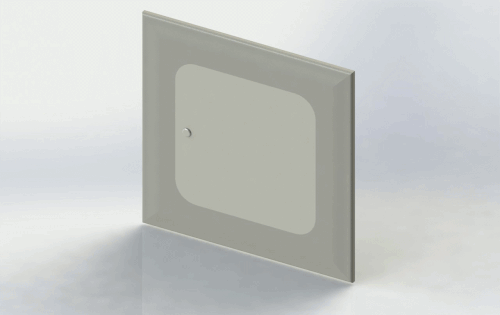 Styles:
Radius Corner

Square Corner
​
Latch Options:
Magnetic "Touch-Latch"

Slotted, Screwdriver Cam Lock

Lock and Key
​
Application:
​
Materials:
​
Sizes (Door Opening):
Radius: 6"x6" - 24"x72"

Square Corner: 6"x6" - 24"x72"
​
Custom Sizes & Molds Available.
​
​
From the original four size offerings, UP now provides hundreds of sizes of GFRG access panels from 6" to 120". All UP panels are made and calibrated for 5/8" sheetrock. Our door panels are computer programmed to match the frames so that every panel fits in every orientation with even gaps on all sides, every time. UP frames include a wooden embellishment so bugle head screws, or torque, do not fracture or crack the frames. Every access panel and frame is shipped ready to be taped and painted.
Hinged Panels
Latch Options
Our hinged GFRG panels come with various latch options. All lock options are available for wall applications, magnetic "touch-latch" locks are limited in panel size for ceiling installations.
Additional Options:
​
Standard lock

Recessed Lock with Lock Cap

Phantom Latch (Touch-Release)
​
Lift & Shift Access Panels
TRy to spot our phantom panels